Thanks a bunch my blogging friends! Nice to see you here! Here in the states we love our Thanksgiving also known as Turkey Day!
It used to be that Turkey was served only on Thanksgiving and maybe Christmas and it was a very special occasion while growing up in the 1960's and 1970's. As a kid seeing that huge bird was awe inspiring and drool worthy!
When I was really young we celebrated at my Grandparents and we alternated years as to which side of the family we would visit. I do remember it was a spectacular feast. The special side dishes that went along with the turkey were also phenomenal!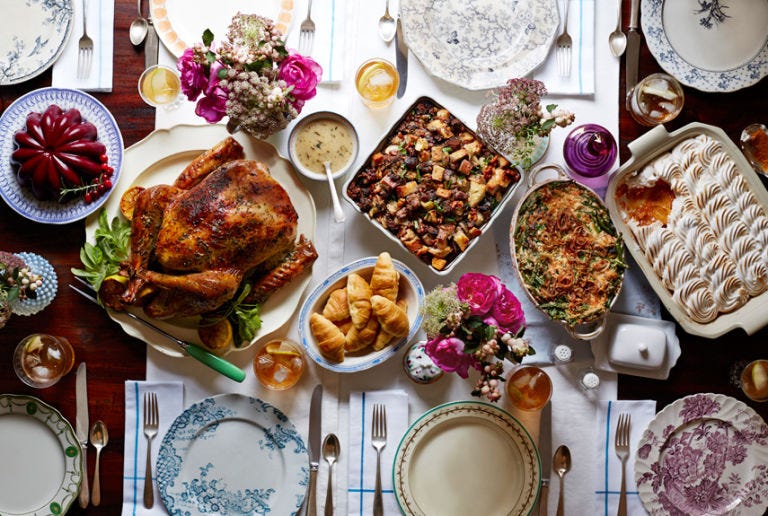 Our menu consisted of....
Roast Turkey
Stuffing or Dressing
Mashed potatoes and gravy
Sweet Potatoes with the Marshmallows on top
Green Bean casserole
Cranberry Apple Jello Salad or Cranberry Fluff or Cranberry Apple Relish Salad (below)
Cranberry Sauce
Dinner Rolls
Relish Plate with olives, baby pickles and carrot and celery sticks; and pickled beets if we were visiting my Dad's parents.
Pumpkin Pie with whipped cream
That was the basic menu, it was long before people started Deep Frying the turkey or brining them or doing whatever the new thing is now!
Now days though we can get turkey all year round and it has lost some of its allure. But I still love a good roast turkey and the menu hasn't changed too much. The Green Bean casserole is now just steamed green beans (much healthier) but we've made up for that by adding a corn pudding and a scalloped oyster side dish (below) so there has been no reduction in calories!
I have fond memories of those olden days when all the families got together and I got to see my cousins and we ate and laughed and played! Now it's pretty much a get together for a bunch of us older folks to solve the worlds latest crisis and eat as much as we want!
How do you celebrate your Thanksgivings? What are your favorite foods? I know some of you are Canadians and have already celebrated, any juicy stories you'd like to share? Whatever you do or did I hope it was fun and that you enjoyed your time with friends or family!
Happy Thanksgiving!
See you in December!
Diane
P.S. some of these photos aren't mine. Click on the image and it should take you to the site.